Welcome to the 2023 Ophel excavation—a joint project of the Institute of Archaeology of Hebrew University and the Armstrong Institute of Biblical Archaeology.
Situated adjacent south of the Temple Mount, beside the busy Ophel Road, with stunning views of the Mount of Olives, the Kidron Valley and the City of David, the Ophel dig is one of the most exciting and important archaeological sites in Israel. On June 18, Hebrew University archaeologists Prof. Uzi Leibner and Dr. Orit Peleg-Barkat, together with Armstrong Institute staff and 13 Herbert W. Armstrong College (AC) students and alumni as well as other workers, began the initial phase of the 2023 Ophel excavation by removing modern reconstruction walls in the area. On July 2, full-scale excavation began, adding more volunteers and archaeological students from Hebrew University.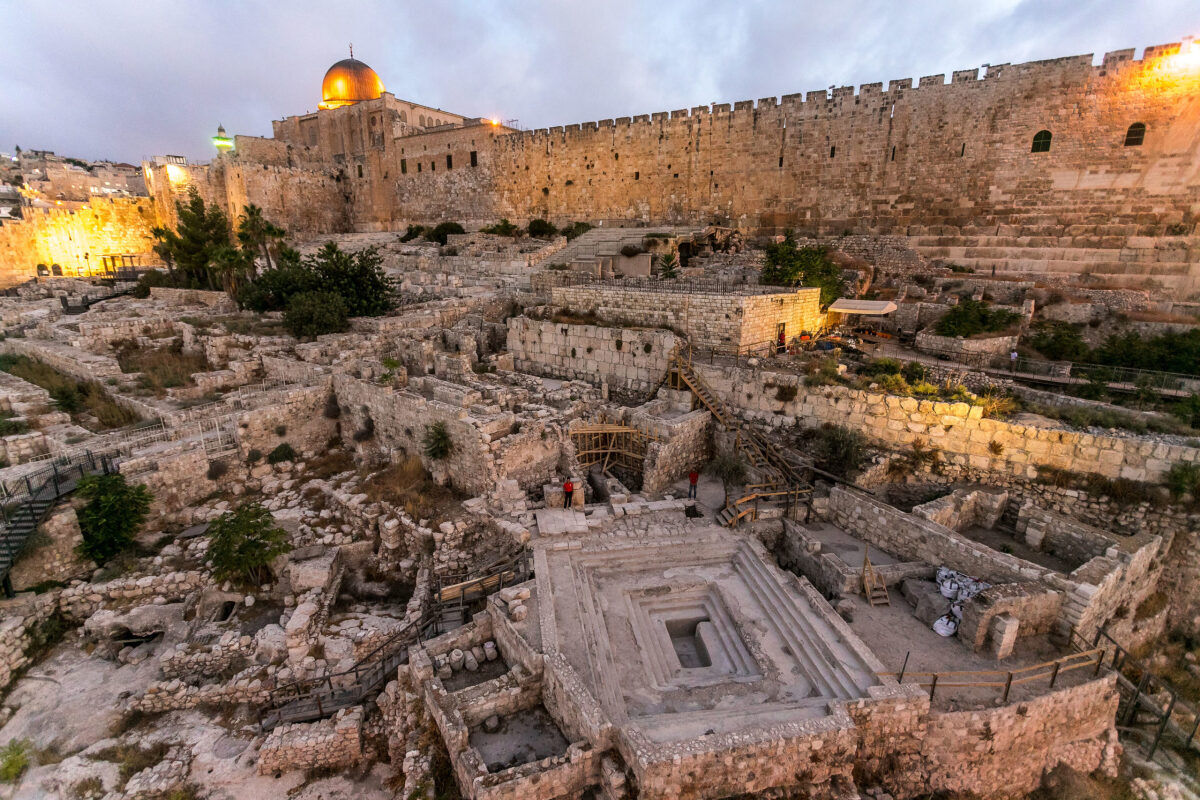 Much like the previous phase (2022; read more here), the 2023 season will focus primarily on revealing Second Temple Period structures and material. Compared to last year, this dig is significantly larger and more extensive. We plan to remove a domestic Byzantine structure, shedding more light on a monumental building from the Early Roman Period that, along with a massive ritual bath (mikveh), appears to be related to the function of the Second Temple. Additionally, we will continue to excavate the subterranean drainage tunnels connected to both the mikveh and the Second Temple structure. Further, we will open a new area of excavation (Area E), that will hopefully provide more finds from the Second Temple Period.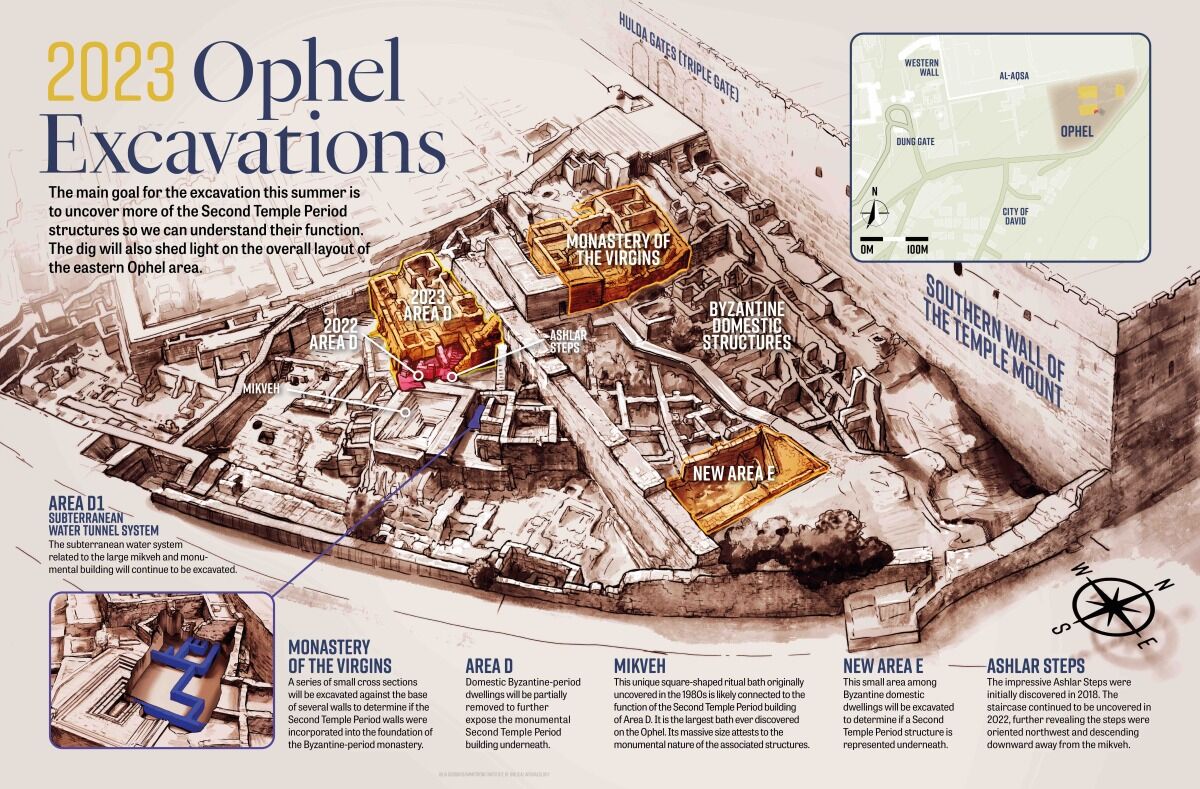 This season, for the first time ever, we will be blogging our experience! This page will provide up-to-date information, photos and videos of the 2023 Ophel excavation. Check back often as we follow what we hope to be one of our most exciting excavations to date! The most recent post will be at the top.
AUGUST 4: OPHEL EXCAVATION FEATURED ON ALEX TSEITLIN'S PODCAST
A few weeks ago, Alex Tseitlin and his assistant visited the Ophel excavation site to film a new episode for his popular podcast באים אל הפרופסורים ("Coming to the Professors"). The video, titled "Ophel: A Pilgrimage to the Temple Mount in the Second Temple Period," has since been posted on YouTube (see below). It features a tour of the area by excavation directors Prof. Uzi Leibner and Dr. Orit Peleg-Barkat, as well as interviews with Area D1 Supervisor Christopher Eames and Assistant Supervisor Shoham Buskila. (Note: The video is mostly in Hebrew.)
JULY 31: MEET AREA F SUPERVISOR IDO ZANGEN
JULY 26: COMPLETE 2,000-YEAR-OLD JUGLET AND A CORNICE FRAGMENT FROM THE EARLY ROMAN PERIOD
JULY 25: UNDER TWO WEEKS TO GO
Today, excavation directors Prof. Uzi Leibner and Dr. Orit Peleg-Barkat met with staff about the excavation goals leading into the last week of actual digging. Excavation will end next Monday or Tuesday, before site clean-up and final photographs take place at the end of next week. Thus, we are pushing for the next few days to uncover and expose as much as possible before the season concludes.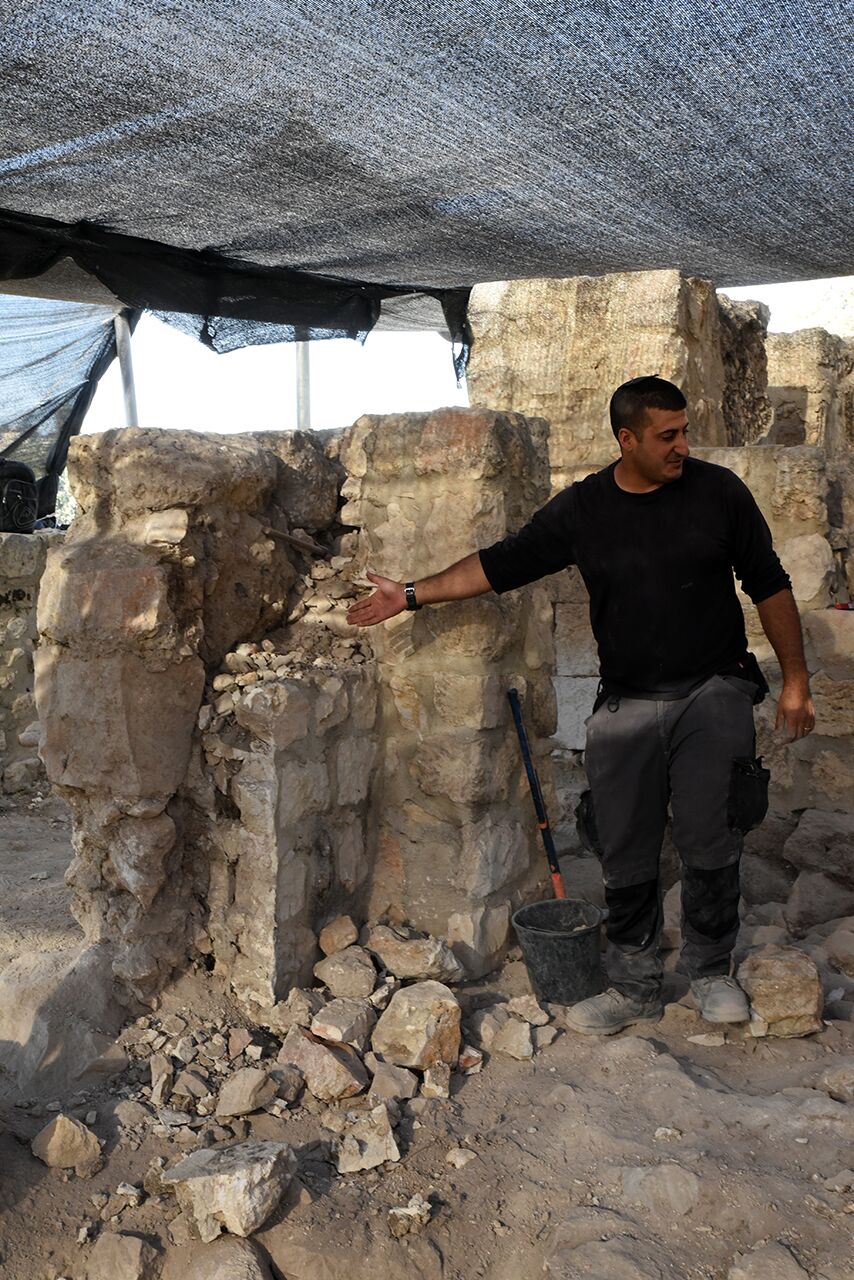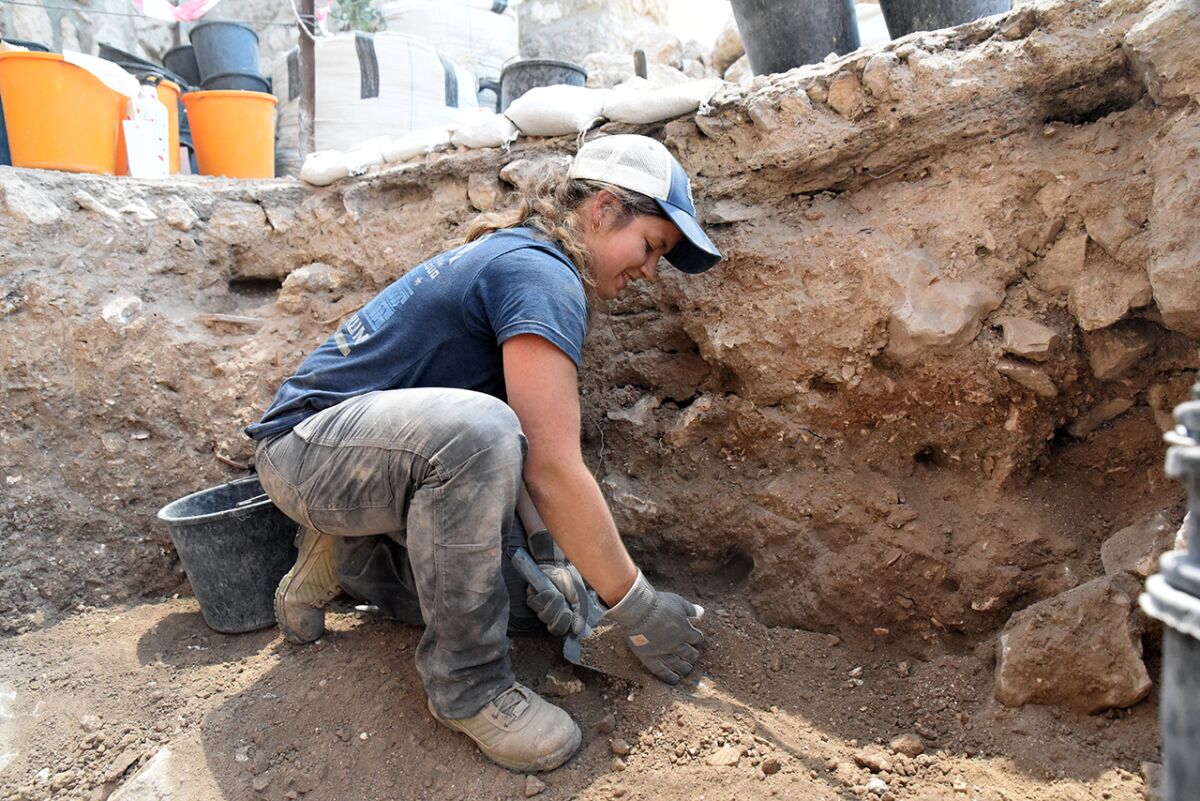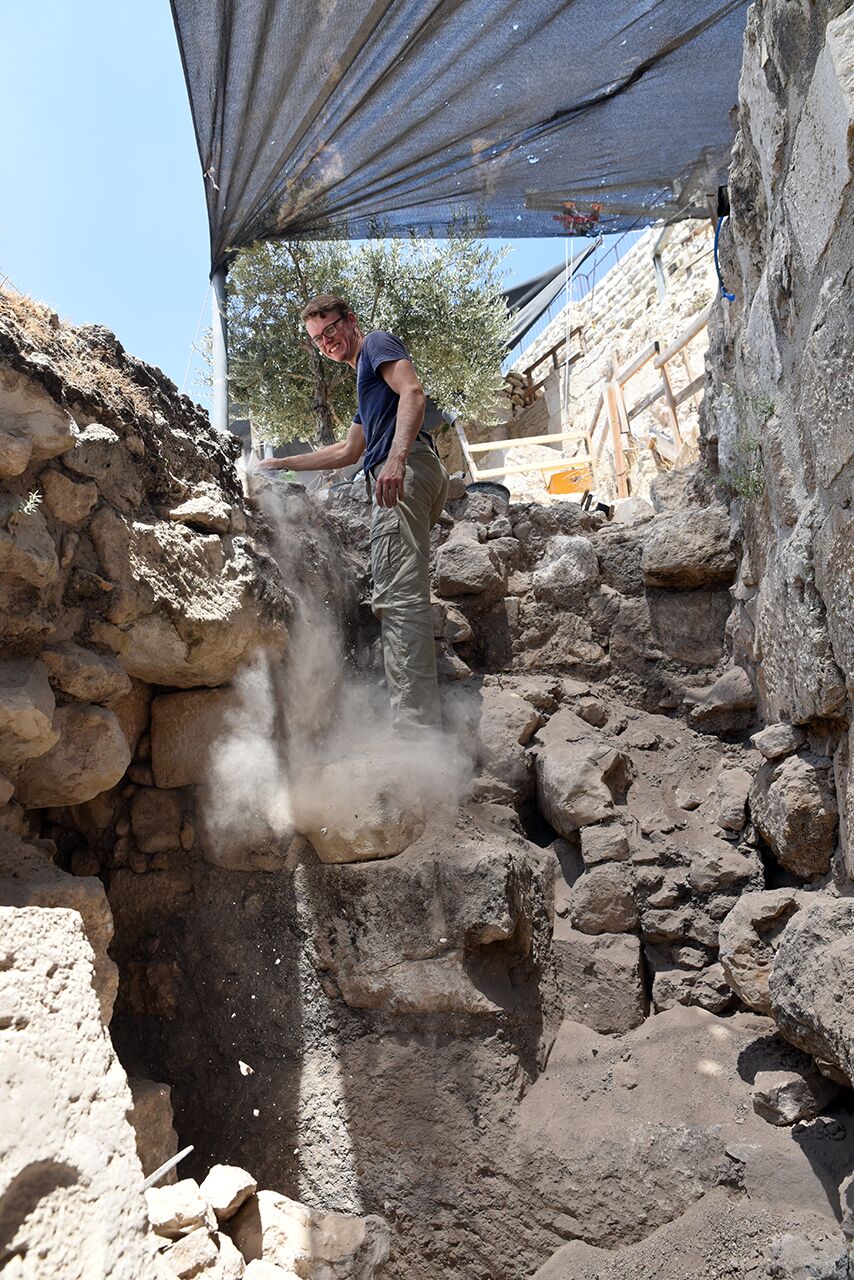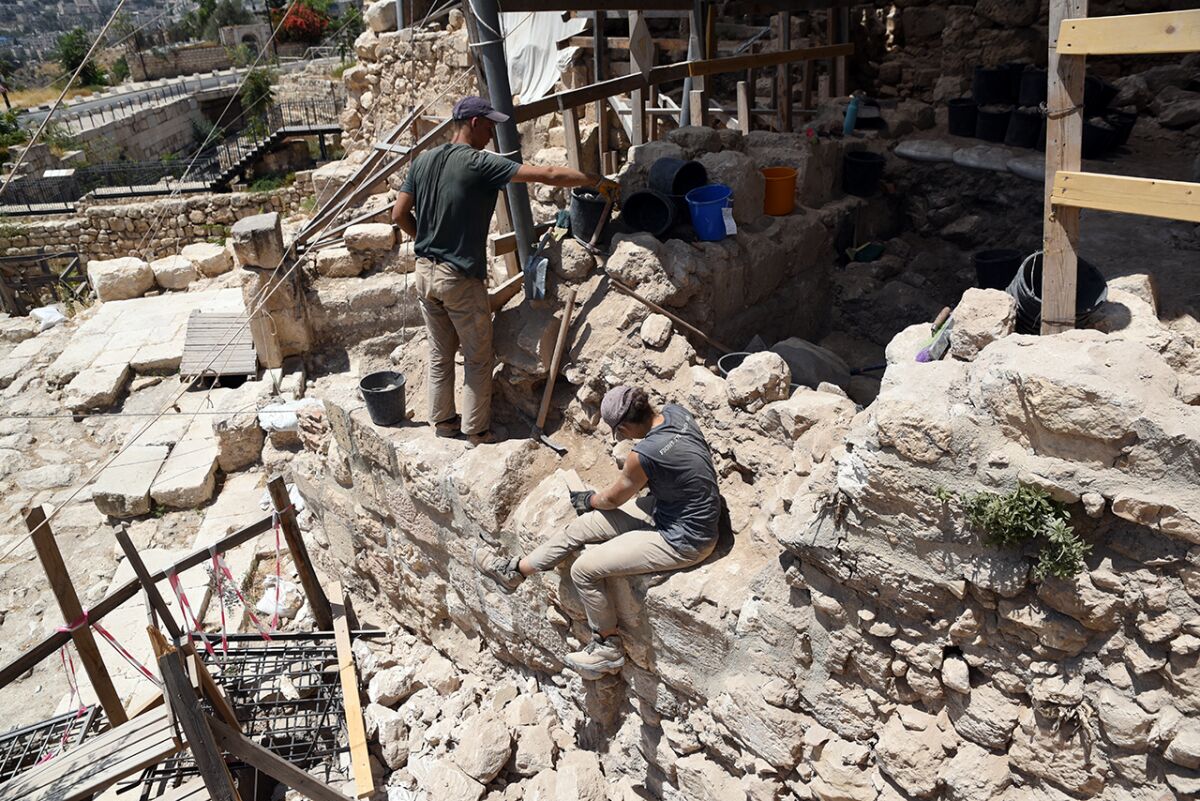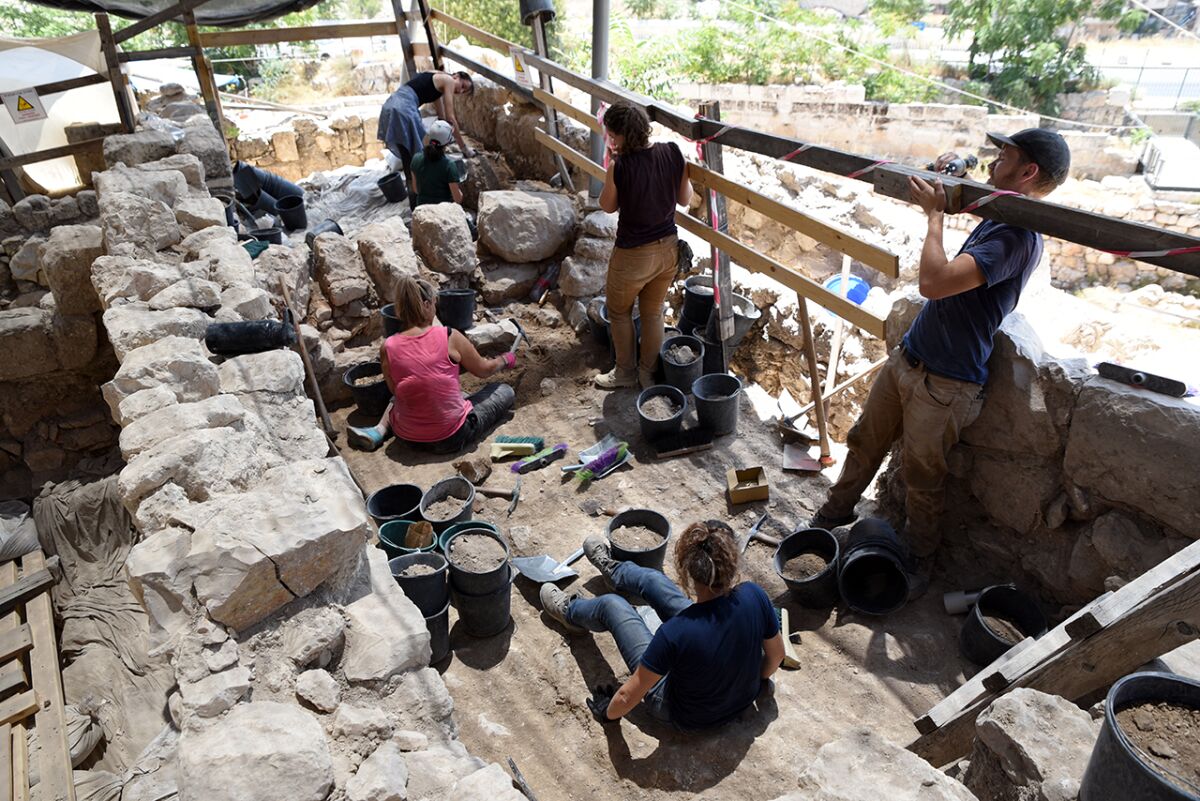 JULY 20: MORE EXCAVATION PICTURES
With two more weeks to go for the excavation, we thought we'd post some more candid shots of the diggers. Today was the last day of work for the Hebrew University and Yeshiva University students. We appreciate their mighty efforts at helping excavate ancient Jerusalem. Next week, we will receive an influx of new volunteer excavators coming from all over the world.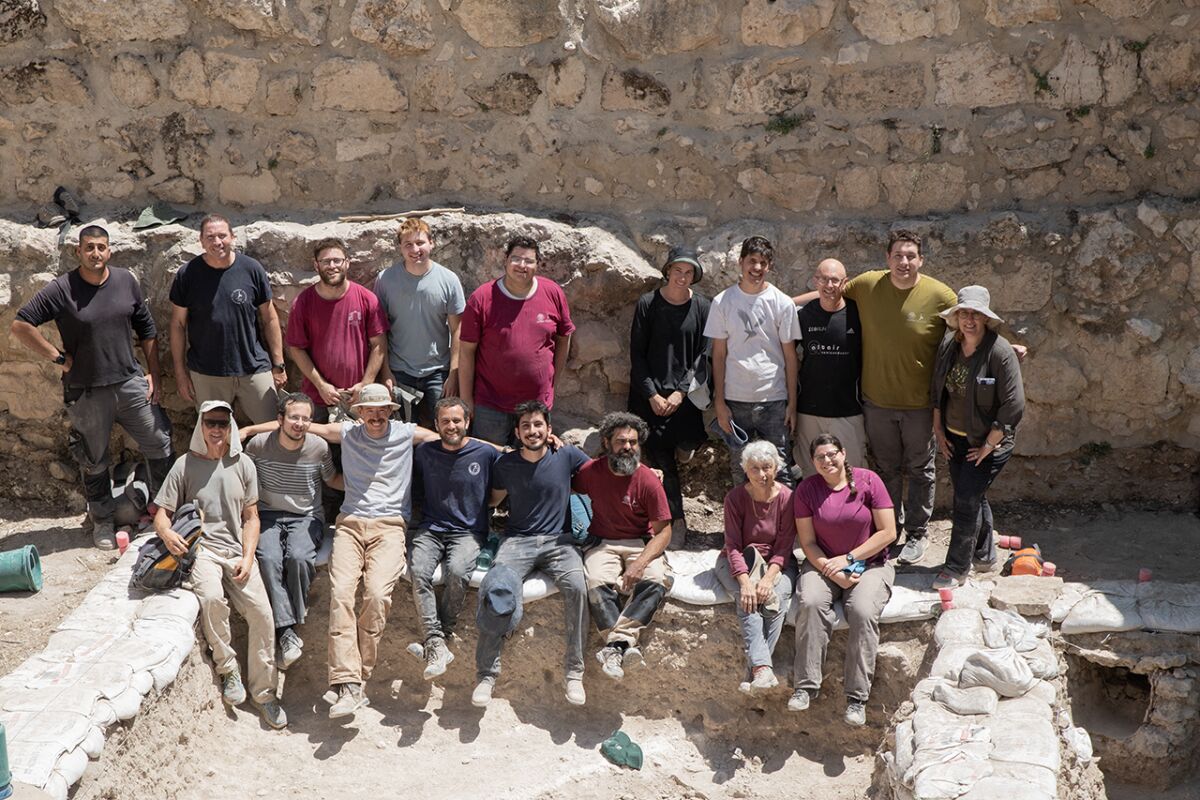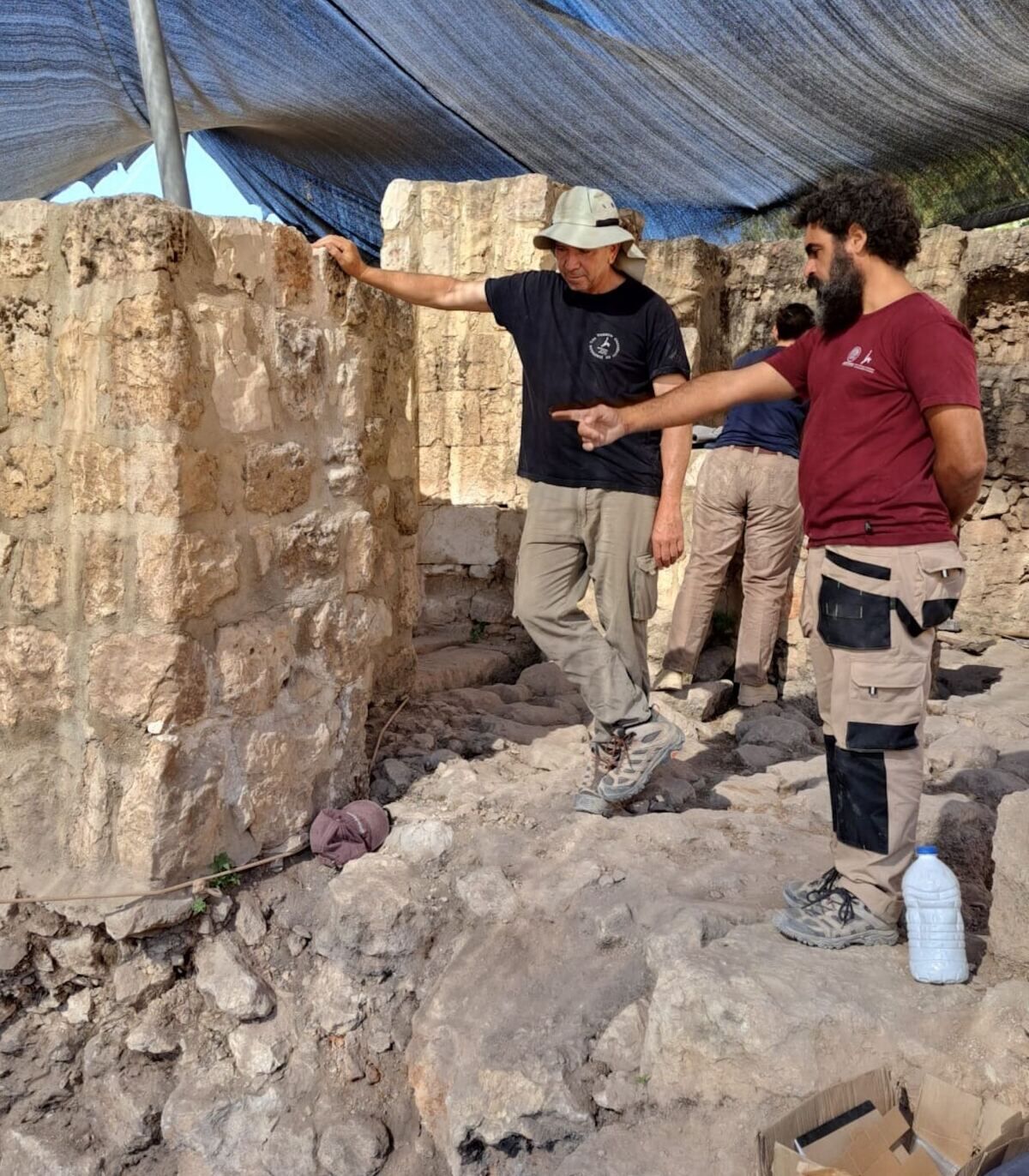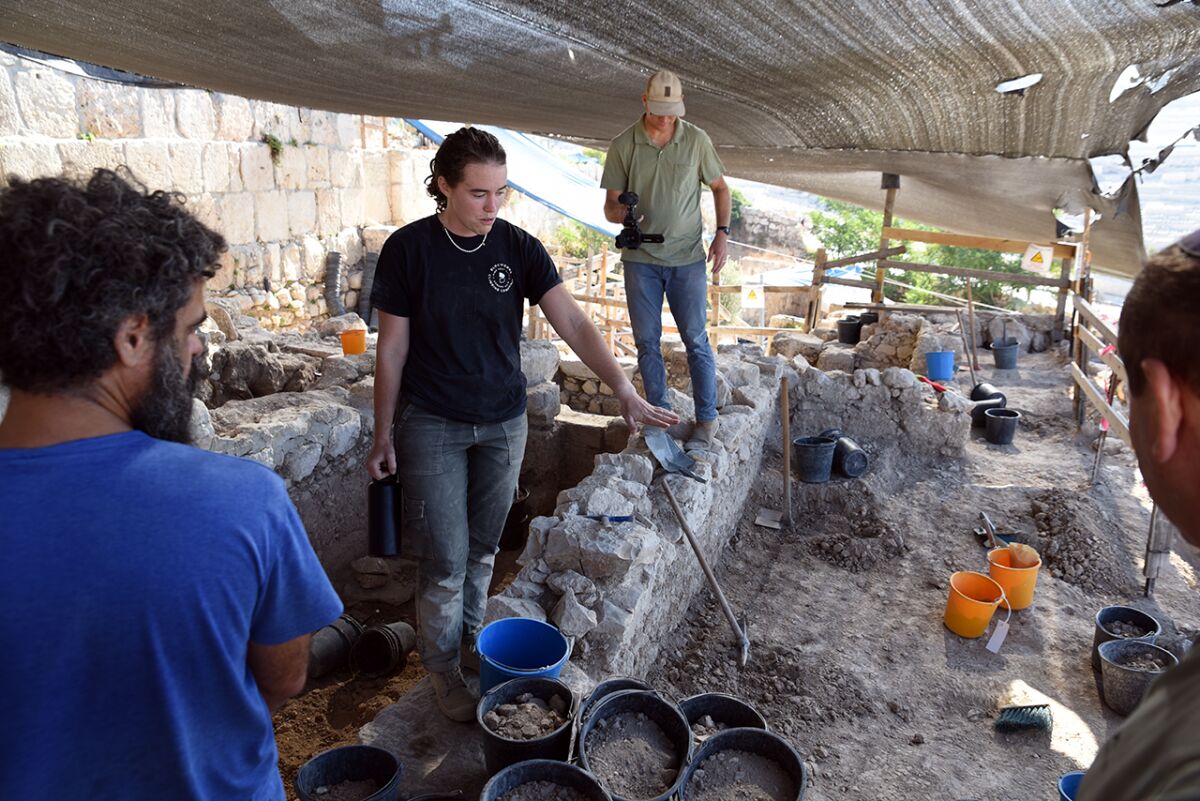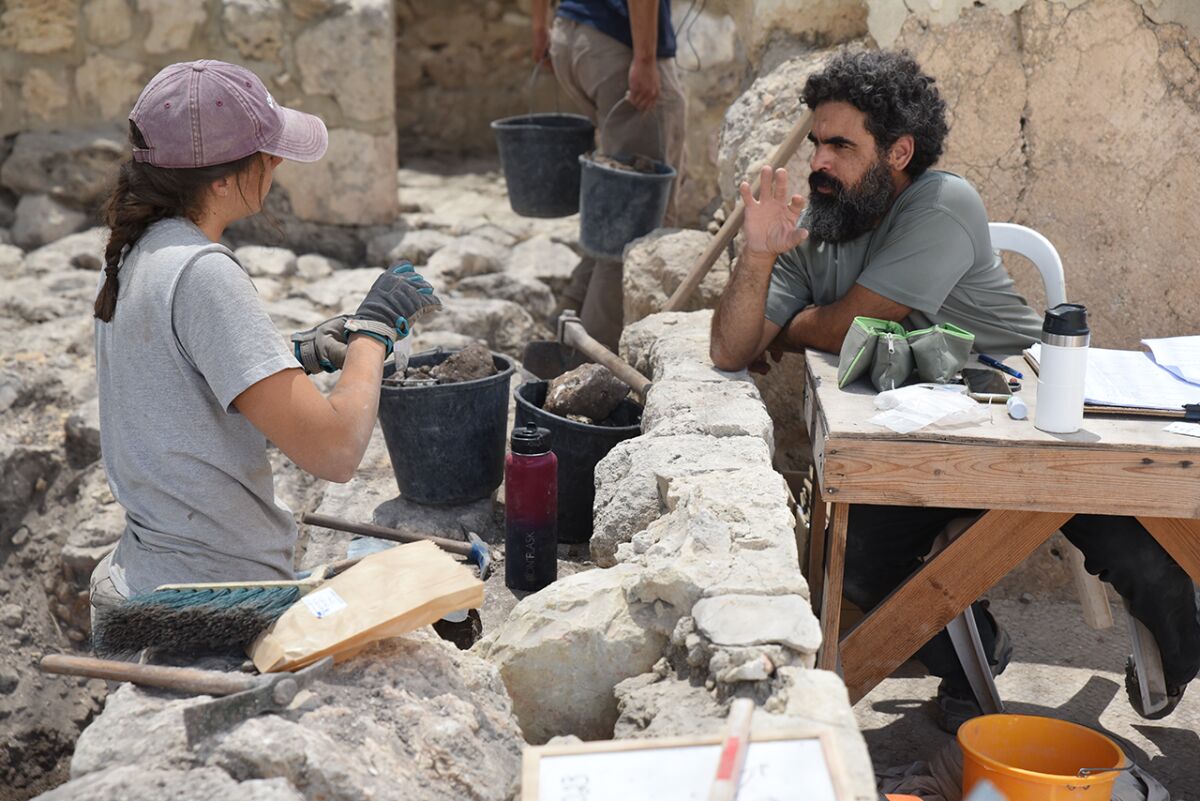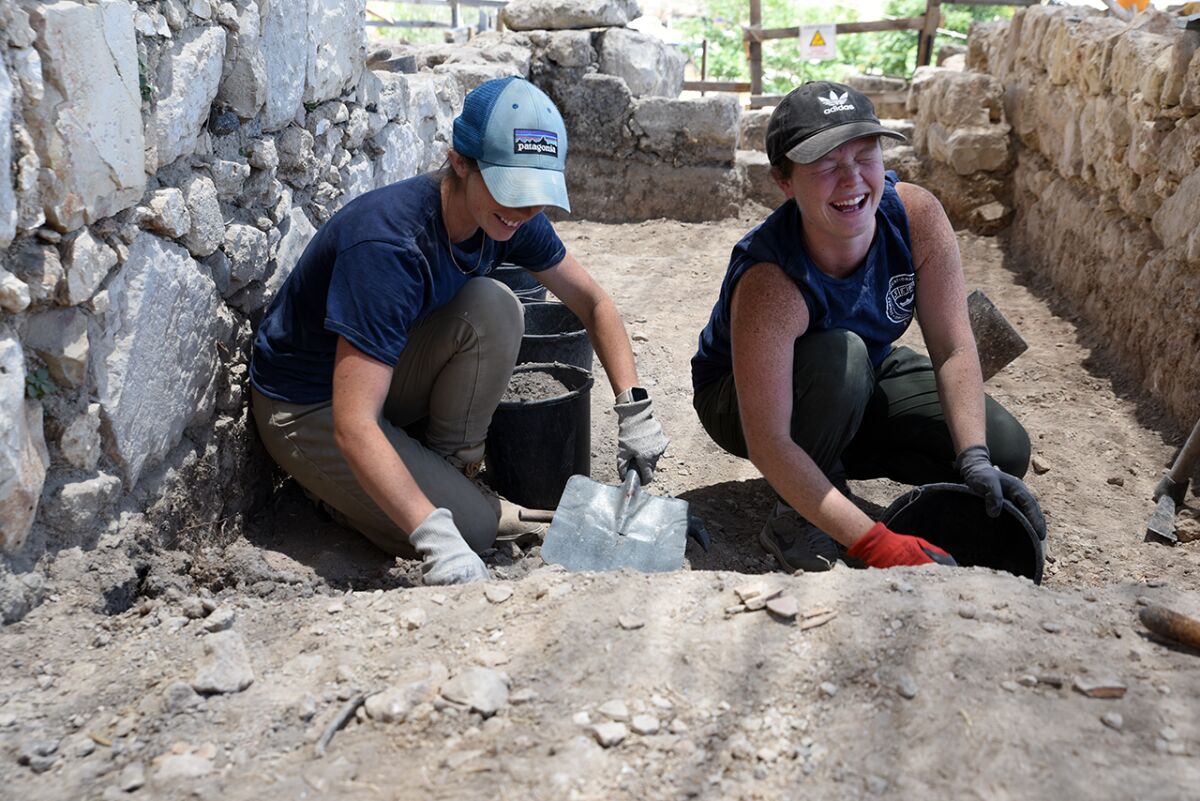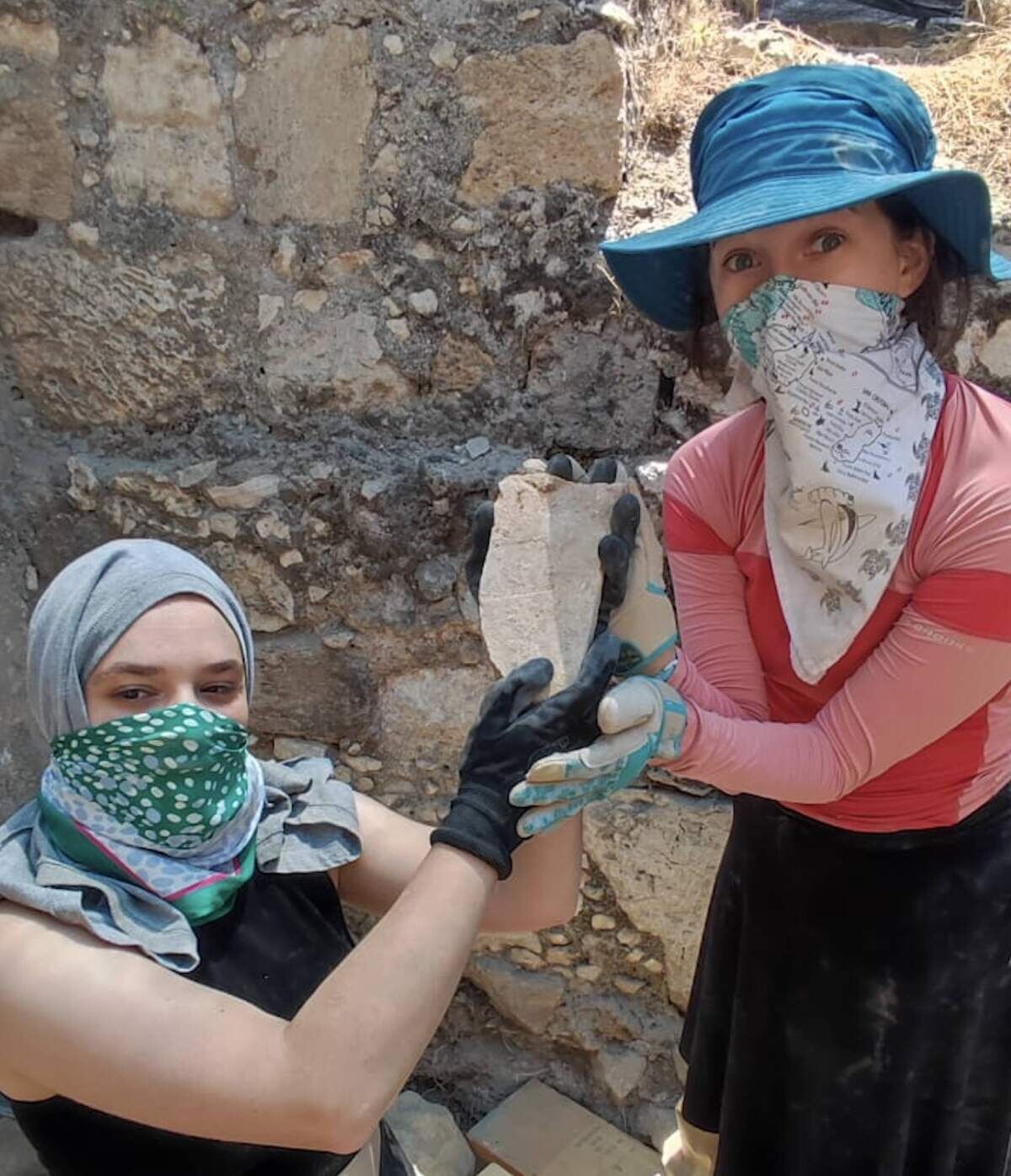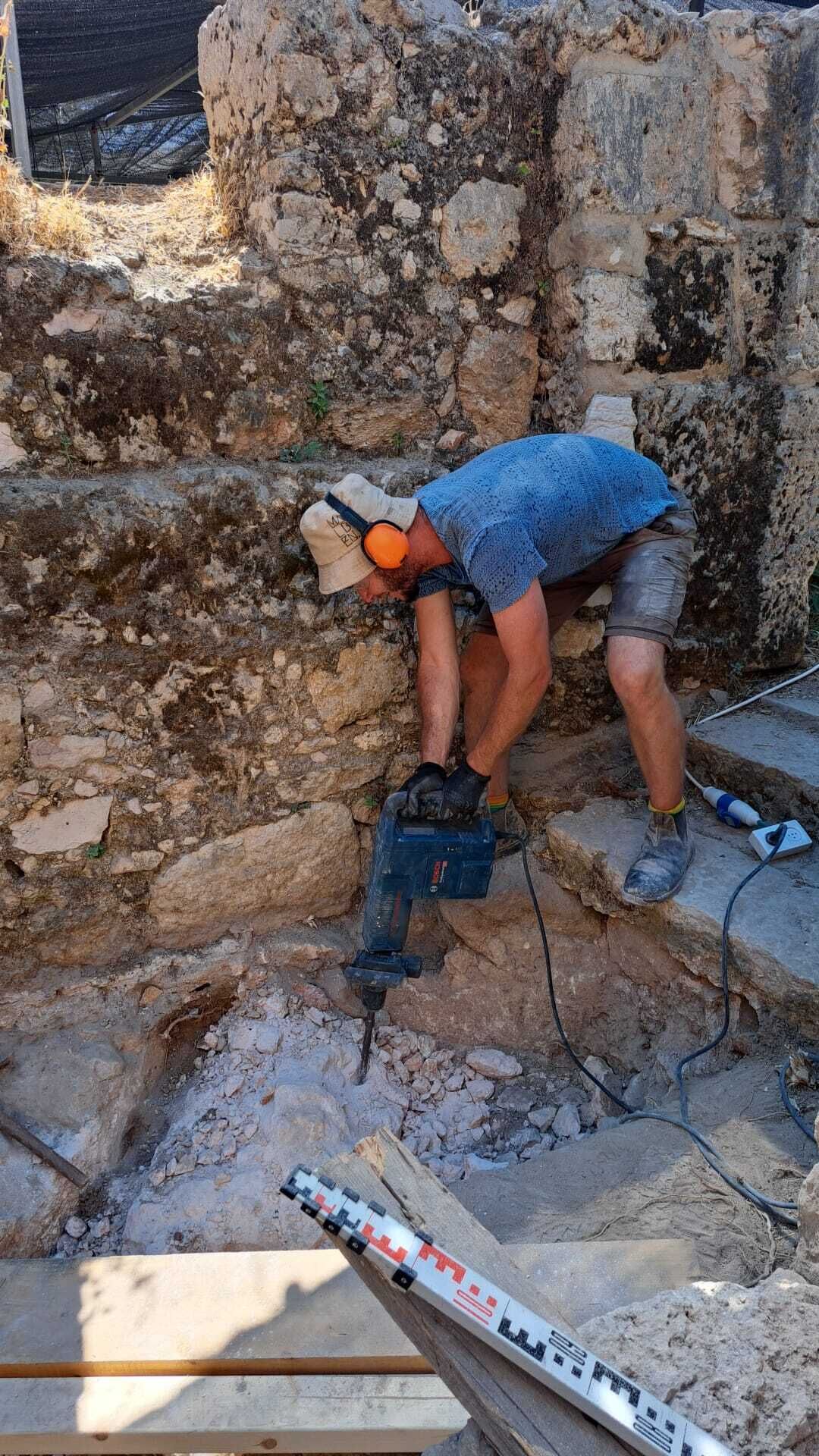 JULY 20: MEET AREA E SUPERVISOR NOA GOLDBERG
Supervisor Noa Goldberg gives an update about Area E and the Hebrew University tutorial excavation.
JULY 16: HERODIAN PERIOD OIL LAMP AND TENTH LEGION STAMPED BRICK
Prof. Uzi Leibner and Area supervisor Ido Zangen describe Area F finds from today on the Ophel excavation in Jerusalem.
JULY 11: MEET AREA D1 SUPERVISOR CHRISTOPHER EAMES
Christopher Eames gives an introductory look at the subterranean world of D1.
JULY 10: YESHIVA UNIVERSITY JOINS DIG
This week, the Ophel Excavation team was joined by 10 student volunteers from Yeshiva University (YU) in New York, led by Dr. Jill Katz. Yeshiva students were distributed throughout areas D, D1 and F, and helped man the pottery washing and sifting station. YU will participate on the dig for the next two weeks.
Numismatics expert Dr. Yoav Farhi brought his metal detector to the field on Monday to lend a hand, hopping between areas and finding over 20 coins from the Second Temple and Byzantine periods. These are in addition to the approximately 110 other coins found so far this season. The on-site wet-sifting station began to take excavated earth from some important areas, making sure no finds are missed.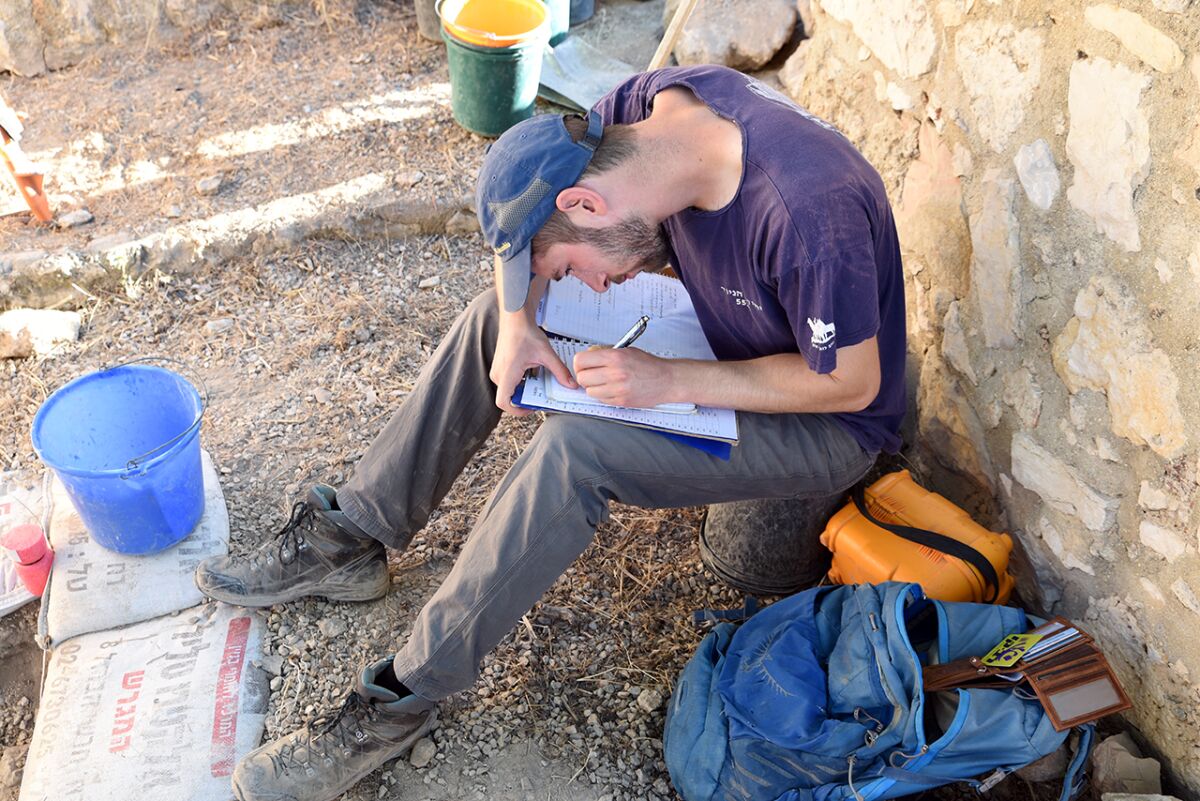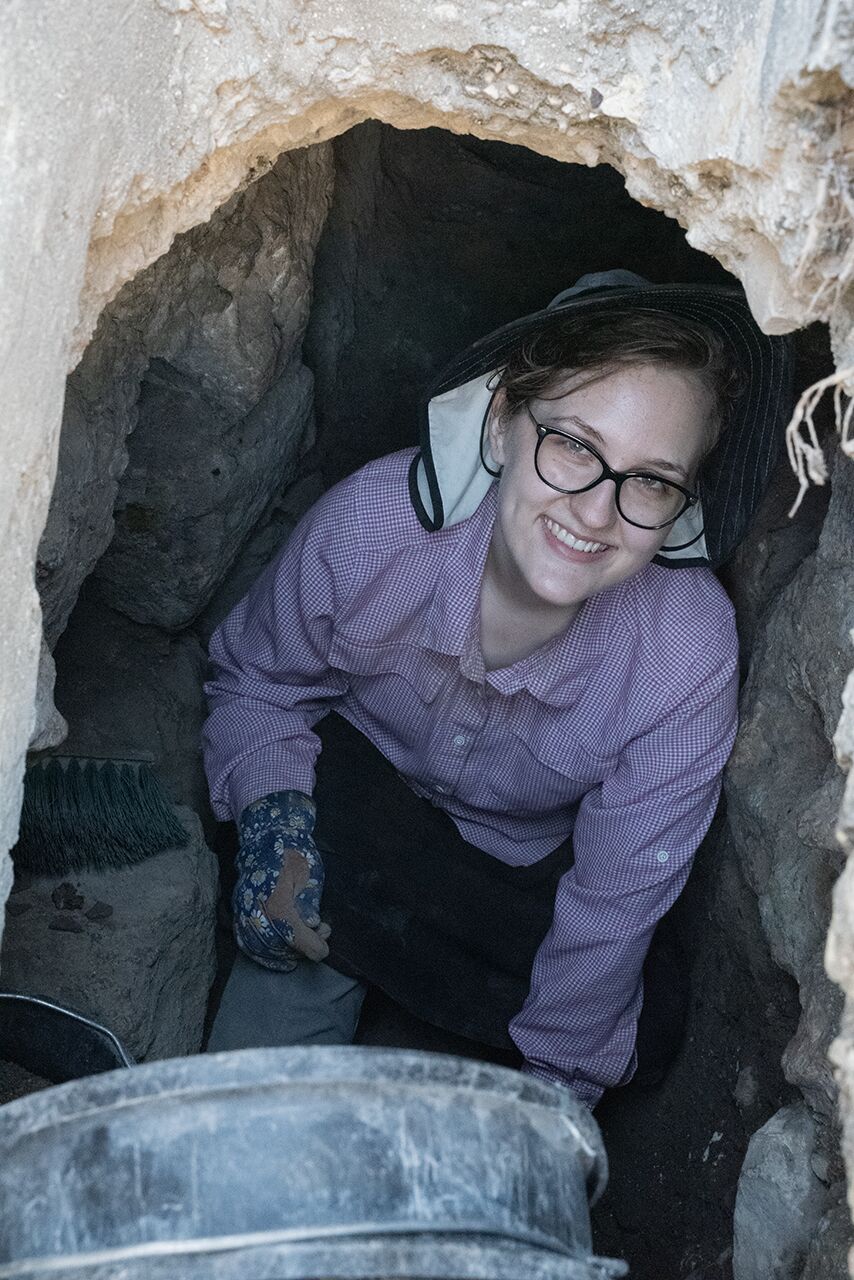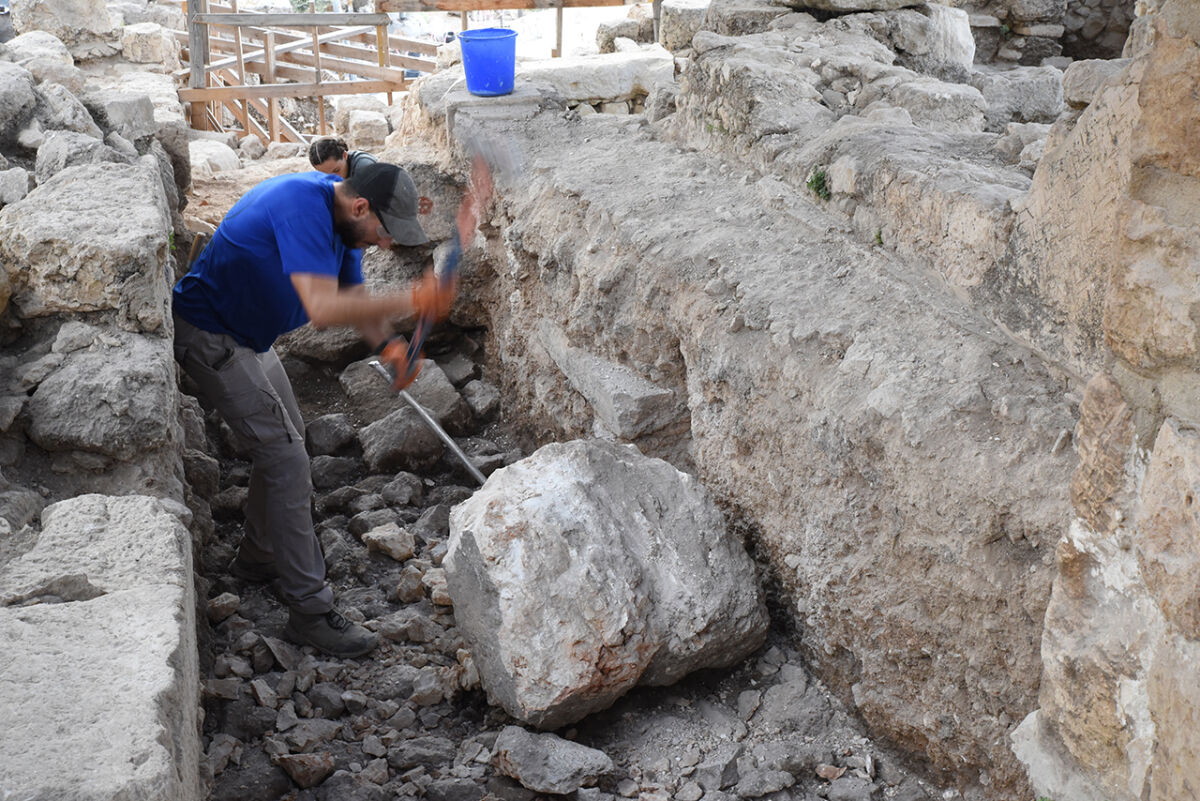 JULY 5: FINE BYZANTINE WARE FROM AREA D1
Dig codirector Prof. Uzi Leibner shows two complete ceramic items from the Byzantine Period discovered this morning in Area D1.
JULY 4: SLINGSHOT AND HAIRPIN FROM AREA E
On July 4, two new small finds were discovered in the field of Area E, just south of the southern wall of the Temple Mount in Jerusalem. Directors Prof. Uzi Leibner and Dr. Orit Peleg-Barkat gave their initial assessment of the finds during the afternoon break.
JUNE 27: MEET AREA D SUPERVISOR AMIR COHEN-KLONYMOUS
JUNE 25: FAUNAL EDITION
On Sunday, the bucket chain was in full swing as workers began the final week of preparation with a smaller crew before the major excavation begins on July 2. Most of the modern reconstructed Byzantine walls were removed by the end of last week, allowing for some archaeology to take place in the clean Byzantine contexts of Area D. In the middle of last week, one of the volunteers found a dainty, intact oil lamp. We are also enjoying occasional visits from the local fauna, including a handsome young fox.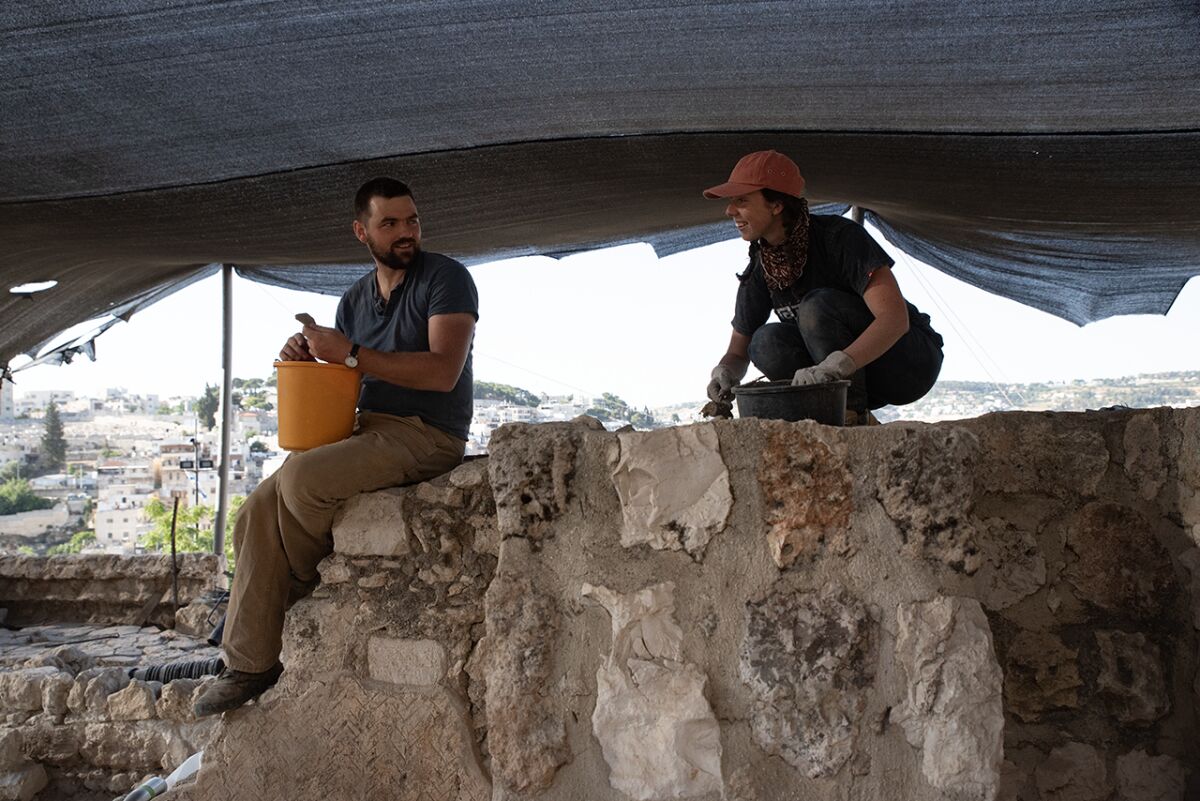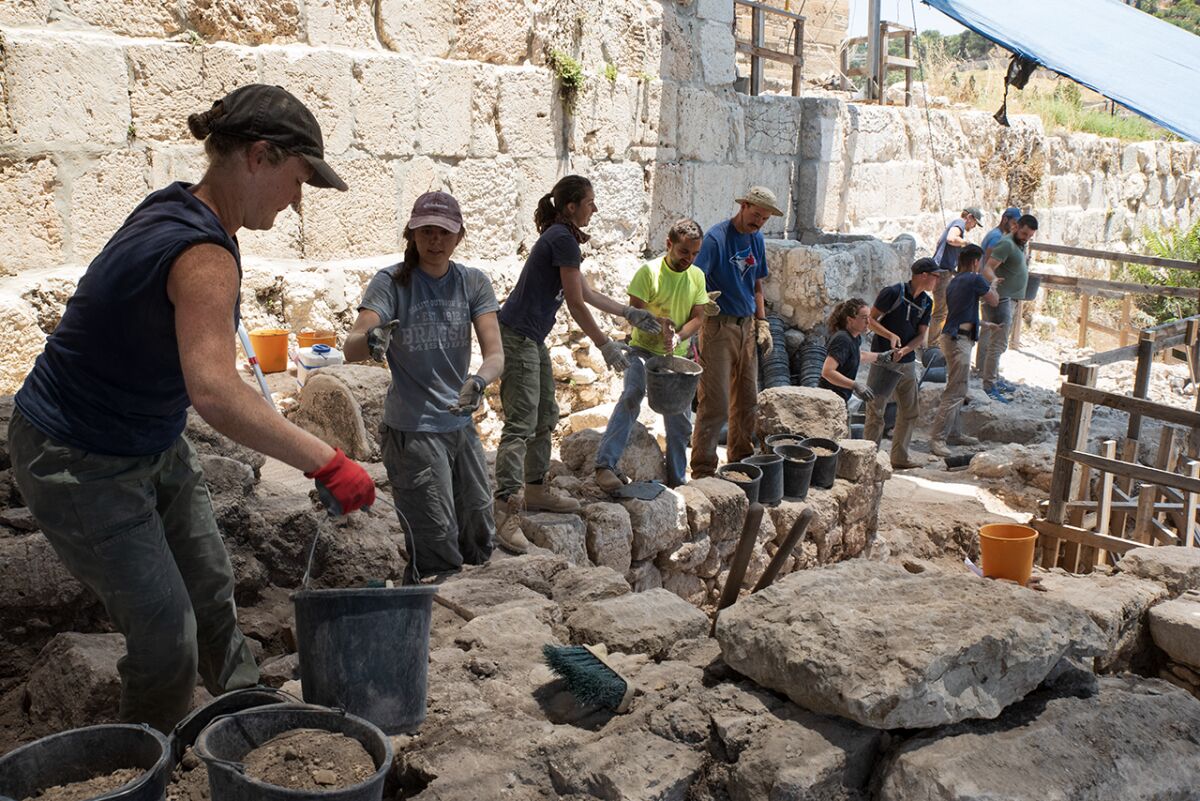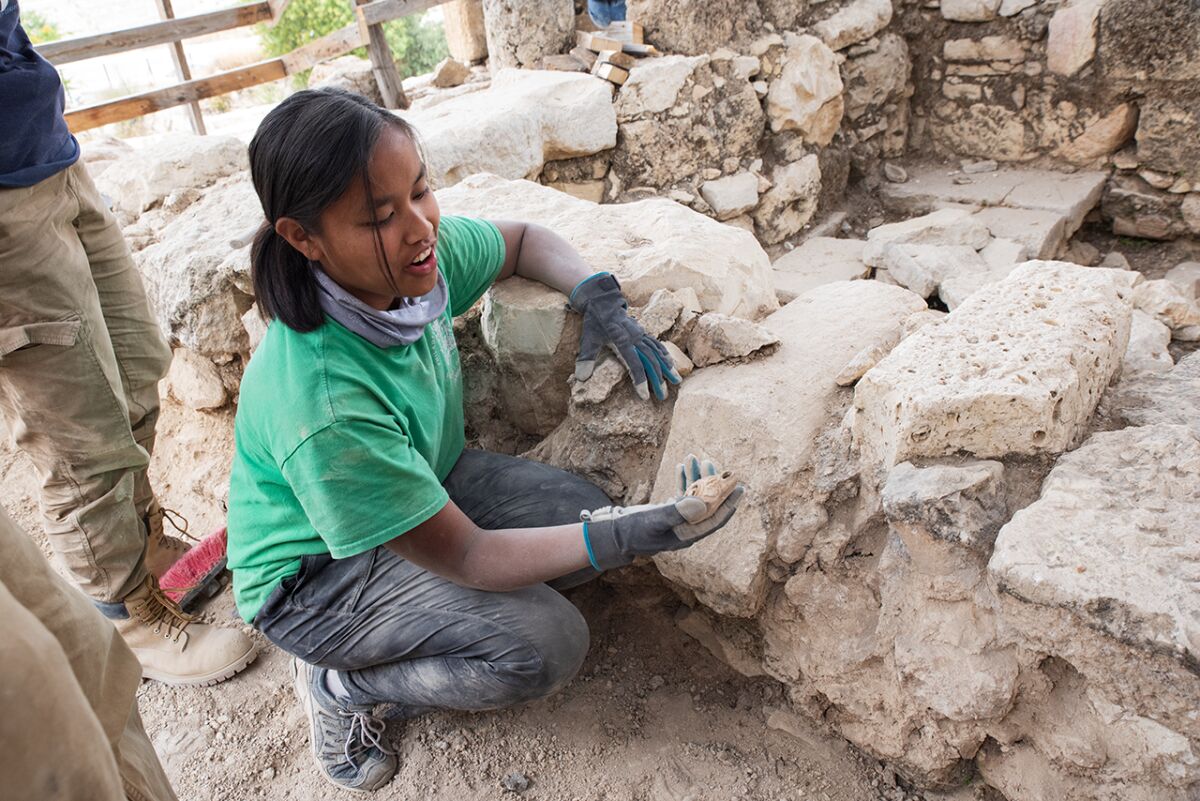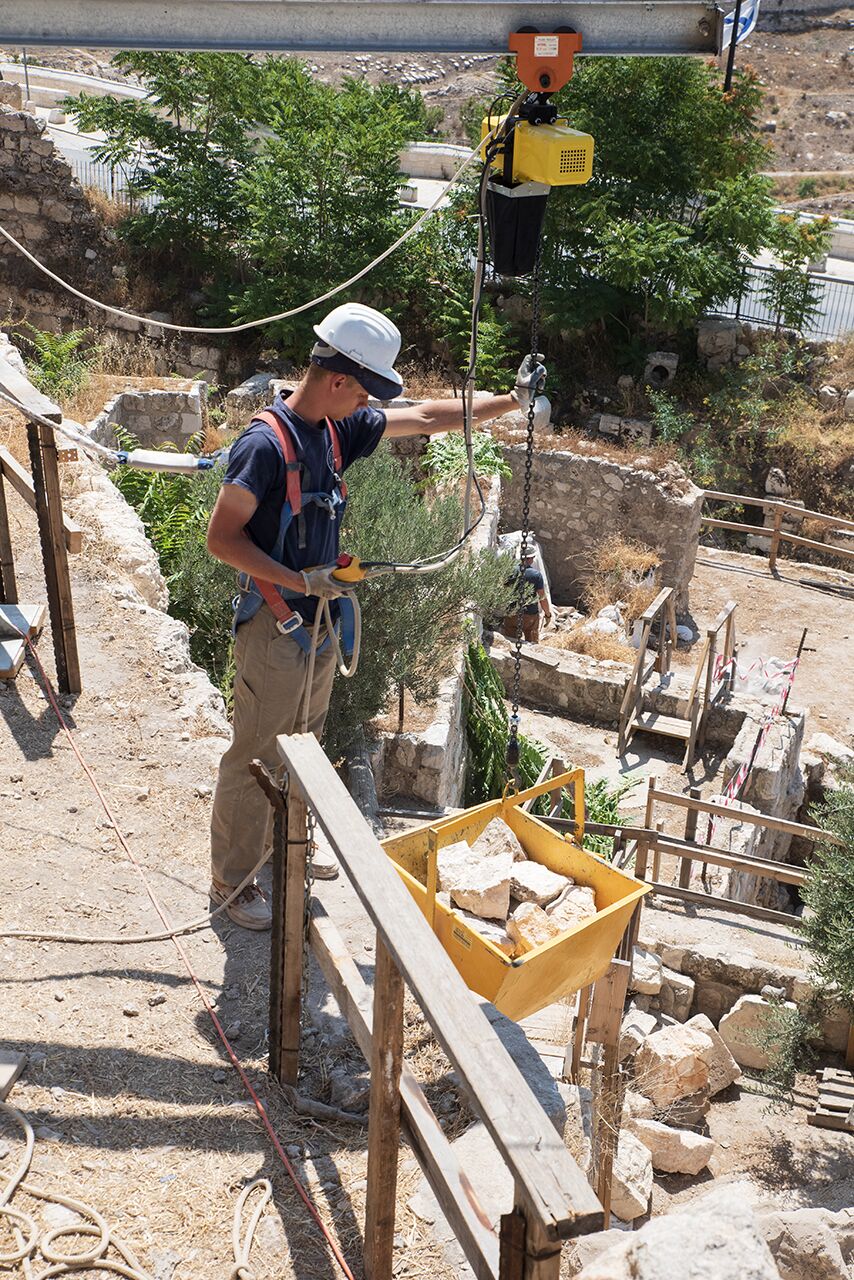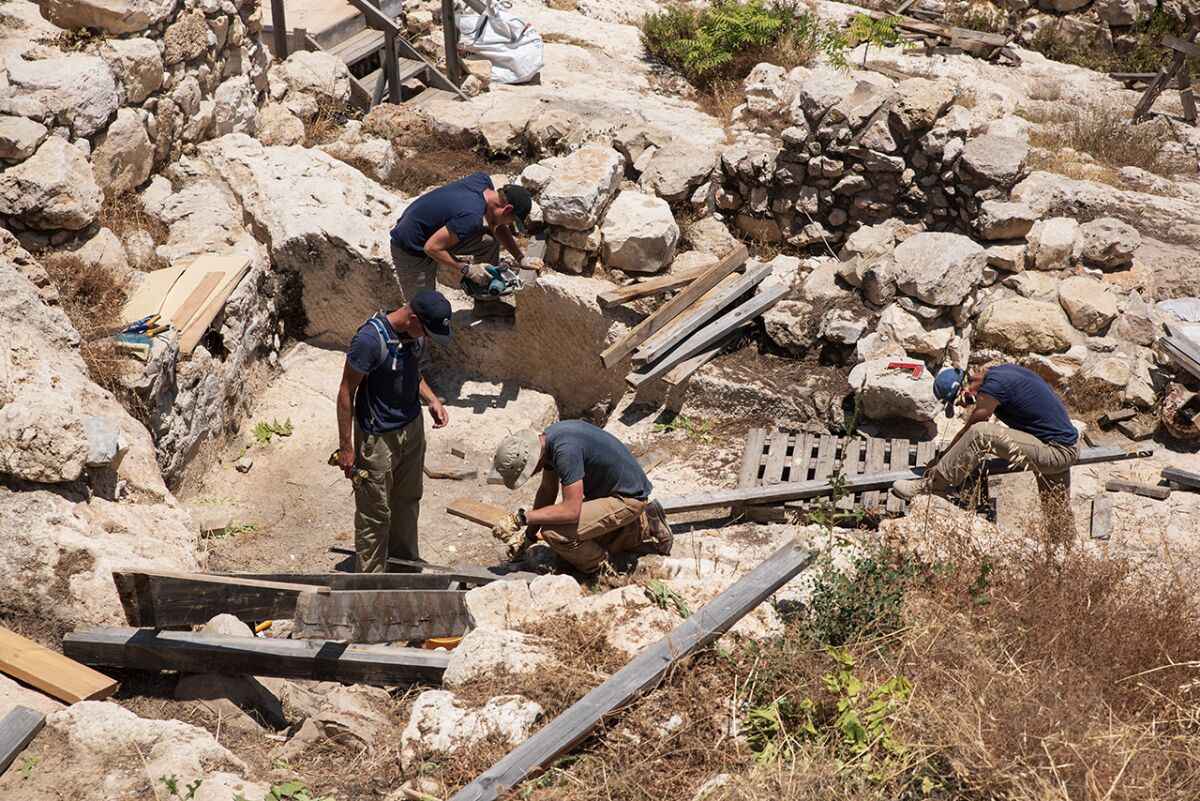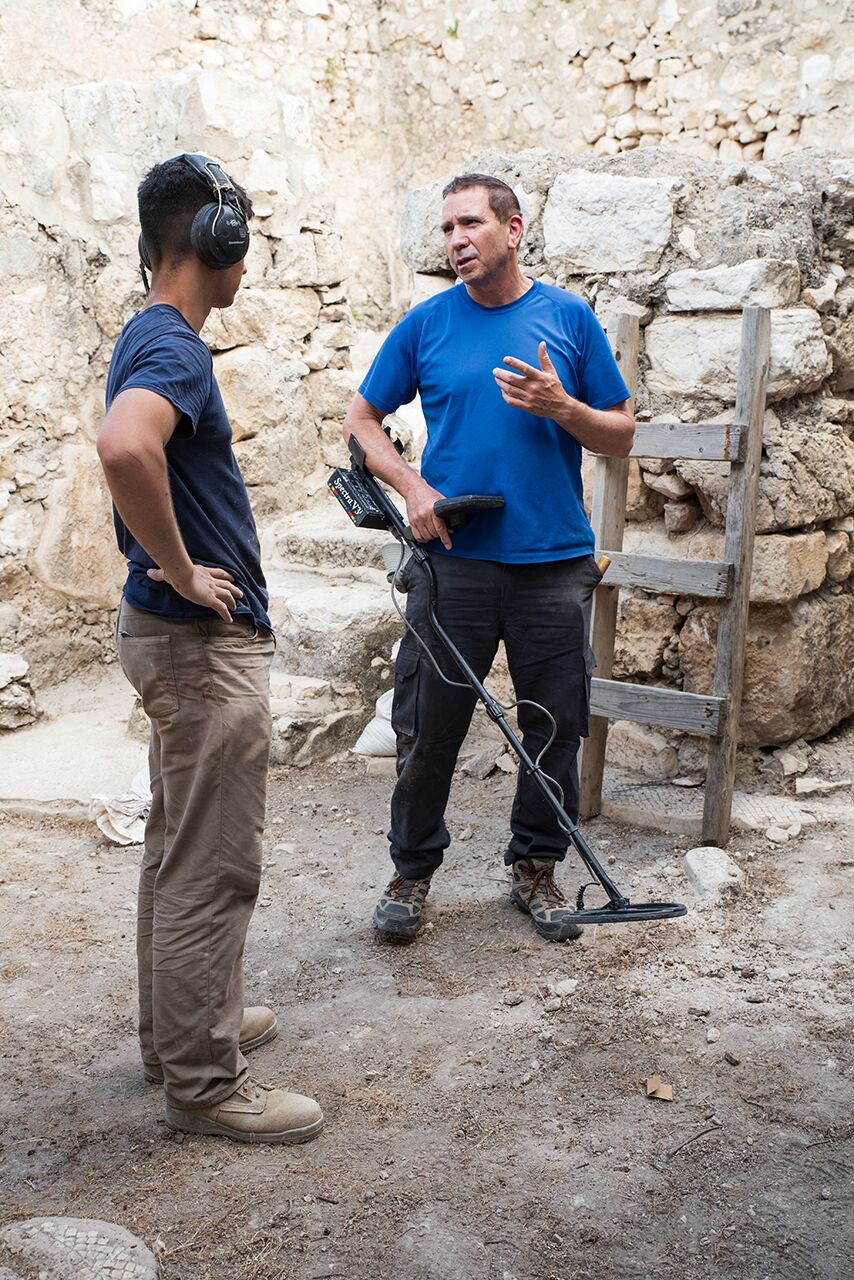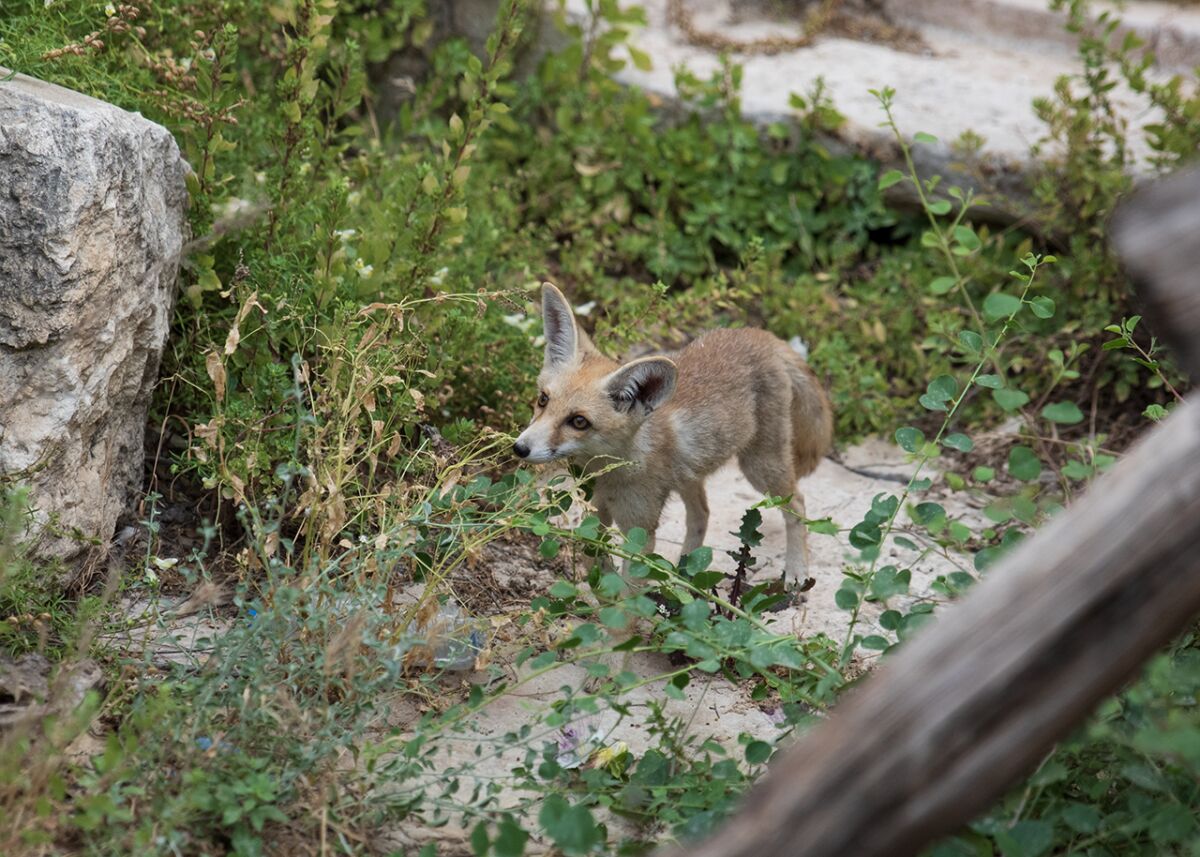 JUNE 21: WELCOME!
JUNE 18: REMOVING RECONSTRUCTED WALLS BEGINS
Ophel Excavation director Prof. Uzi Leibner addressed the AC student volunteers on safety requirements for the excavation season. General photographs were taken by staff photographer Aubrey Mercado of the reconstructed Byzantine Period walls in Area D in preparation for their removal.
Longtime Ophel Excavation architect Marcos Edelcopp was onsite today to draw the walls of Area E. Every wall that is removed is thoroughly photographed and drawn by the architect, in order to re-create a plan of the area for each occupation level.
A team of Arab workers from Hebron joined the crew to help remove the reconstructed walls. They will be on-site for two weeks. While they are a little older in age, their experience working with stone is extremely helpful when breaking up the larger boulders.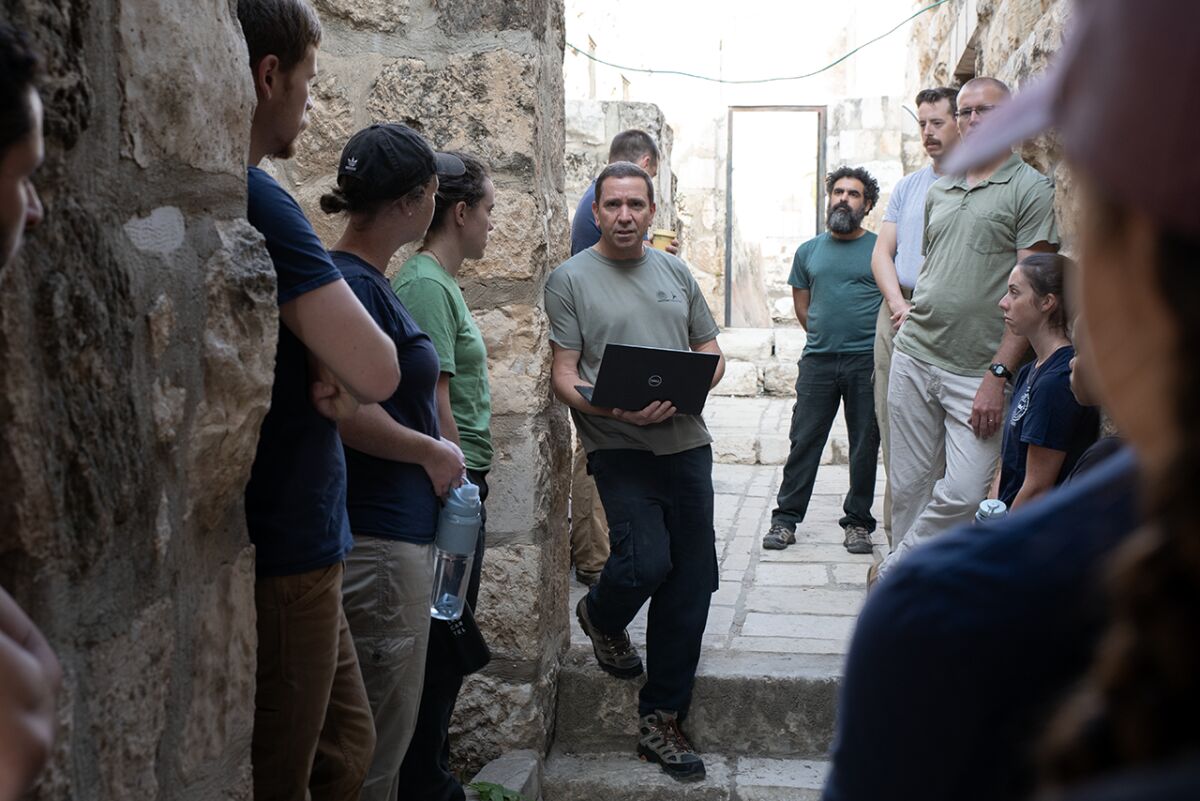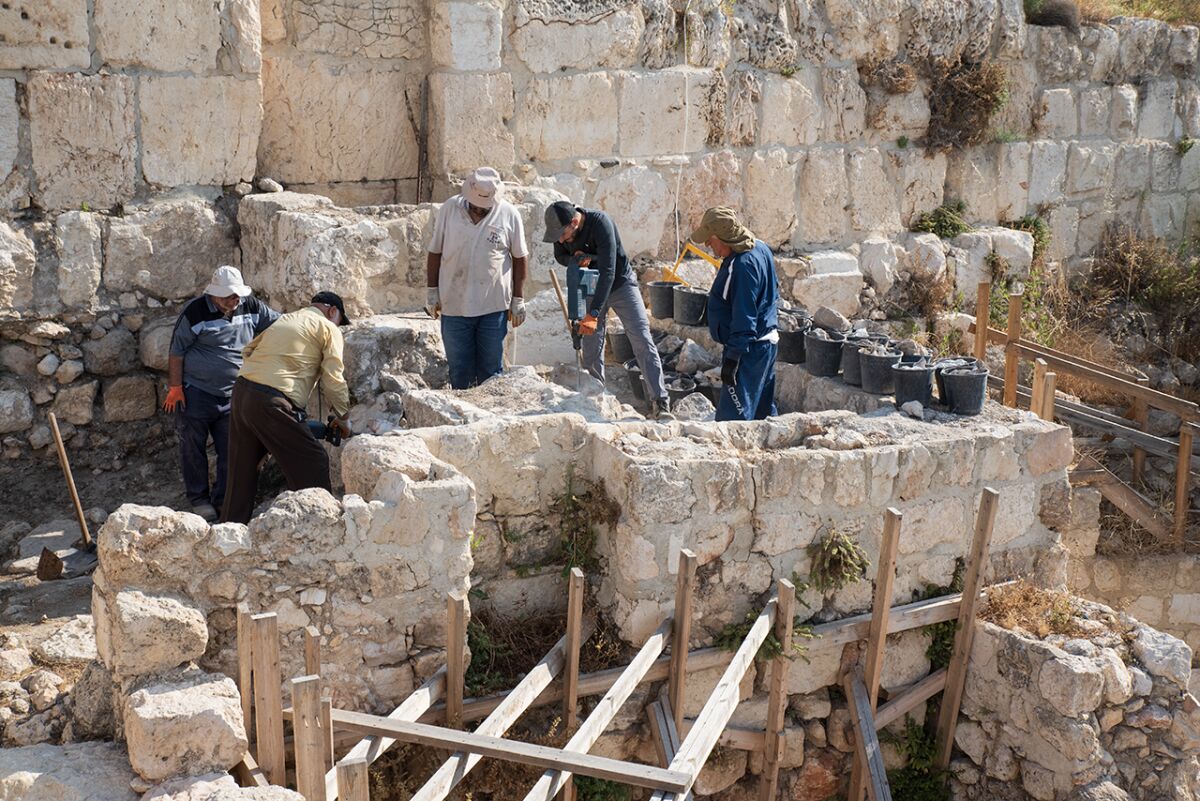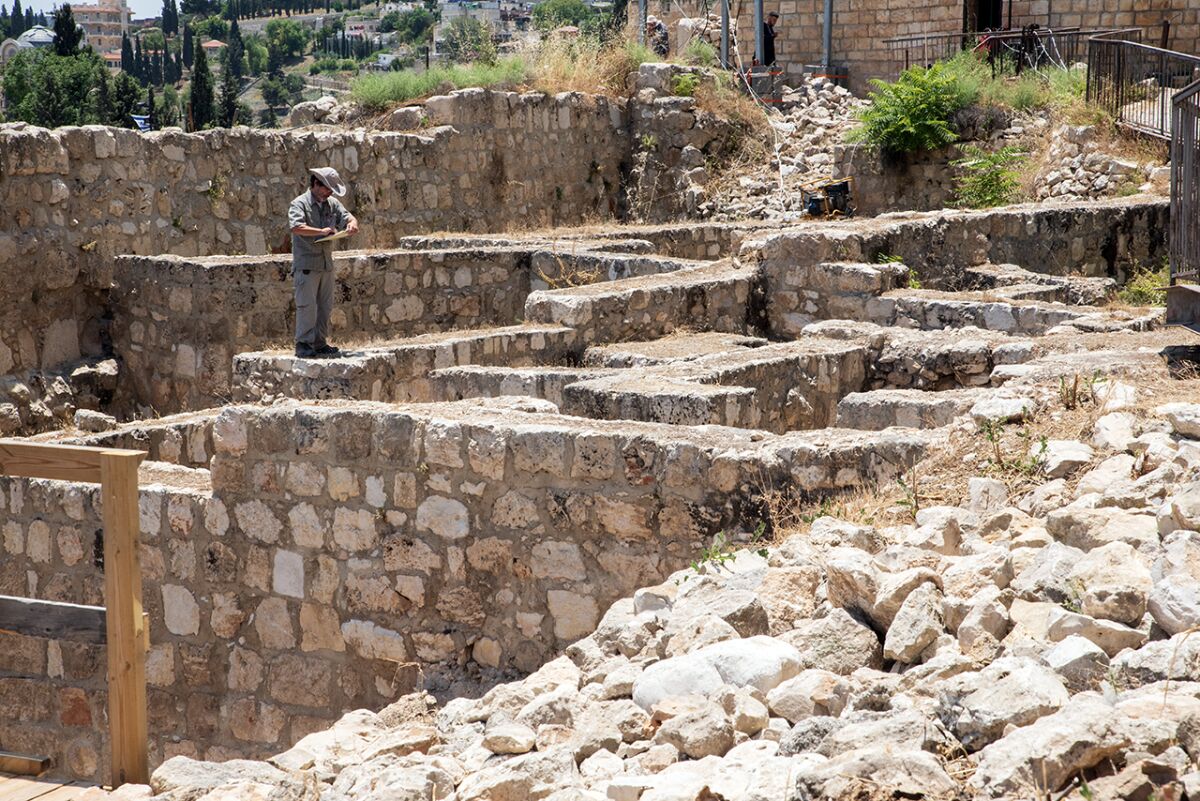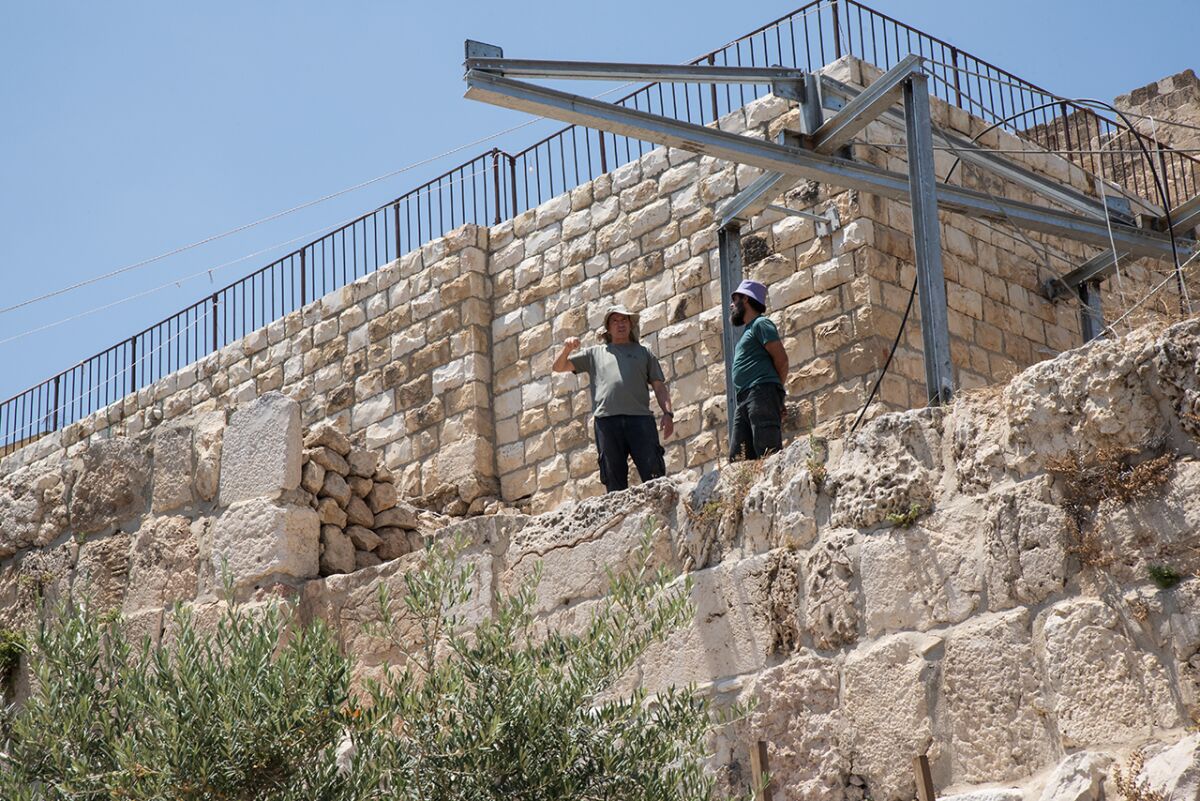 JUNE 15: EXPANDED CREW PREPARES AREA D
About a dozen AC volunteers spent their second day preparing the site by removing vegetation growth from Area D. A logistics team from Israel Archaeological Services worked on a new solution to remove the excavated earth from the site. In previous years, the earth was removed from the site by using a crane from the Ophel Road to hoist large sacks, ba'alot, from the area into the back of a dump truck. However, this was a logistical nightmare as it blocked one lane of the critical Ophel Road and had to be done between 12:00–4:00 a.m. This year, excavated earth will be raised out of Area D using a crane (seen being constructed below), and then driven to the upper area using a small tractor, before it is dumped into a large open waste bin.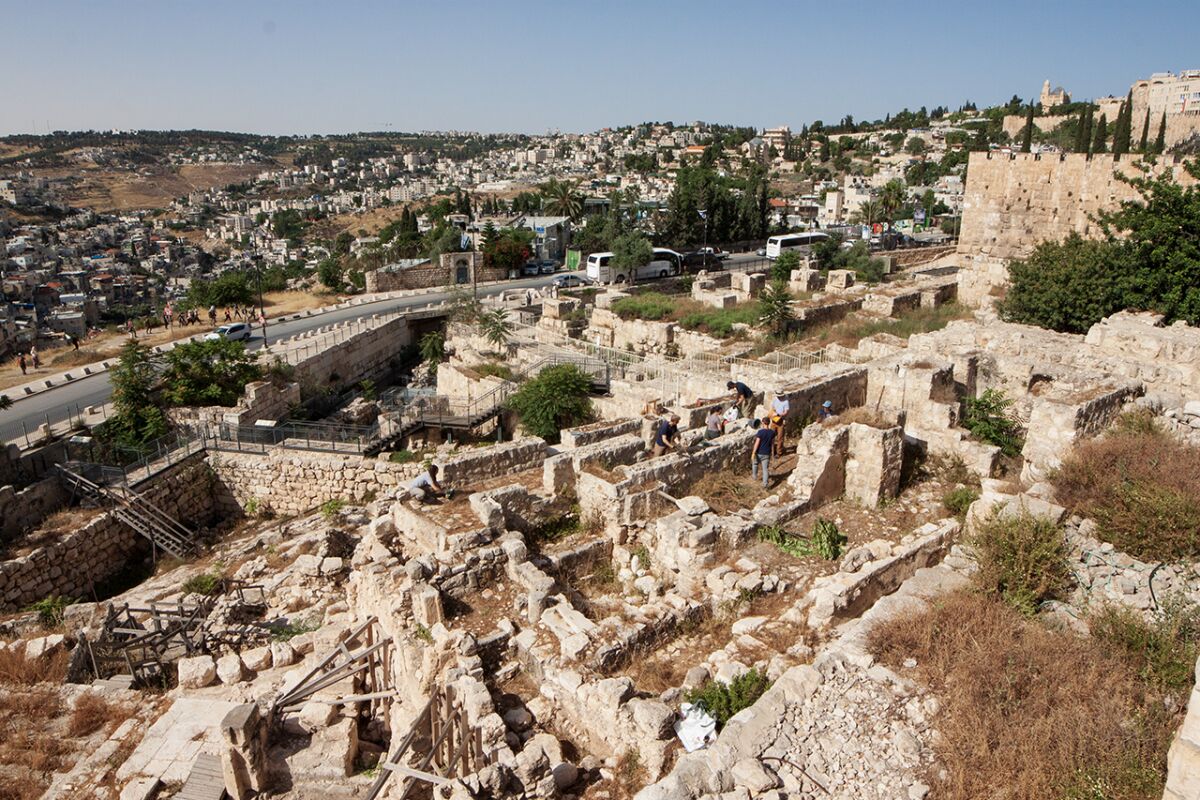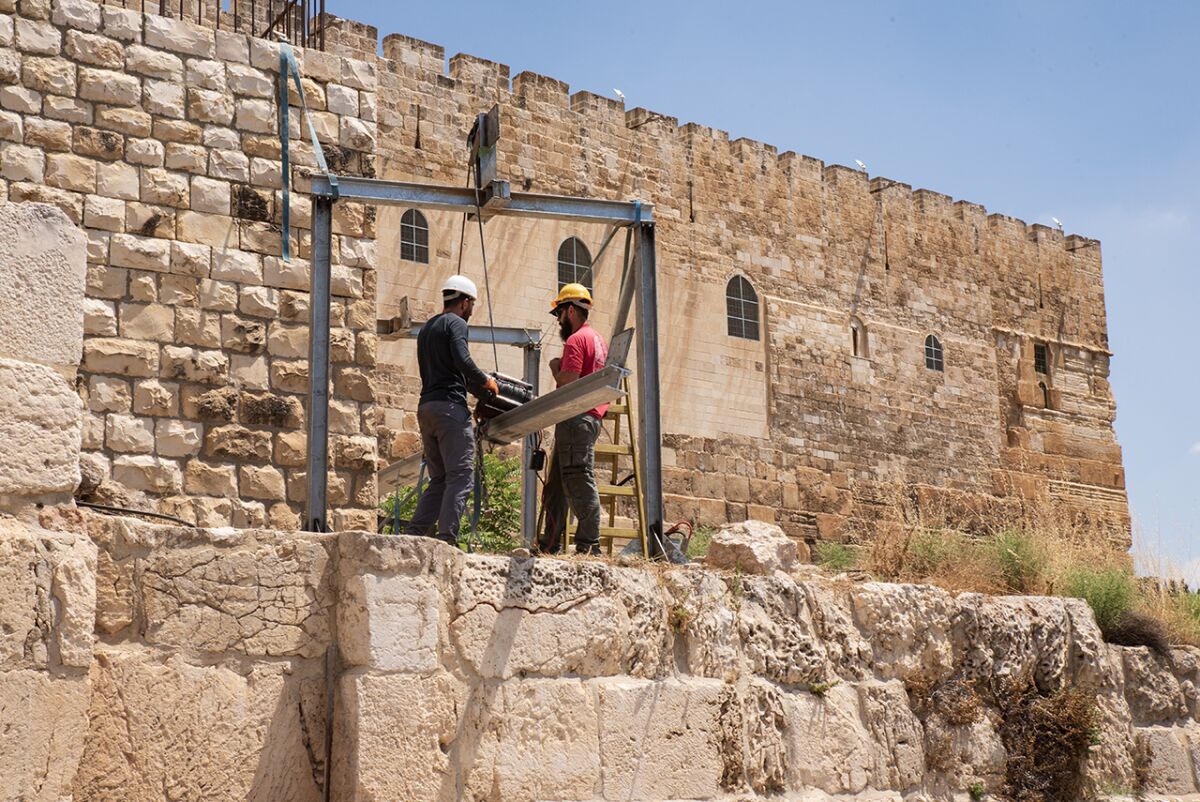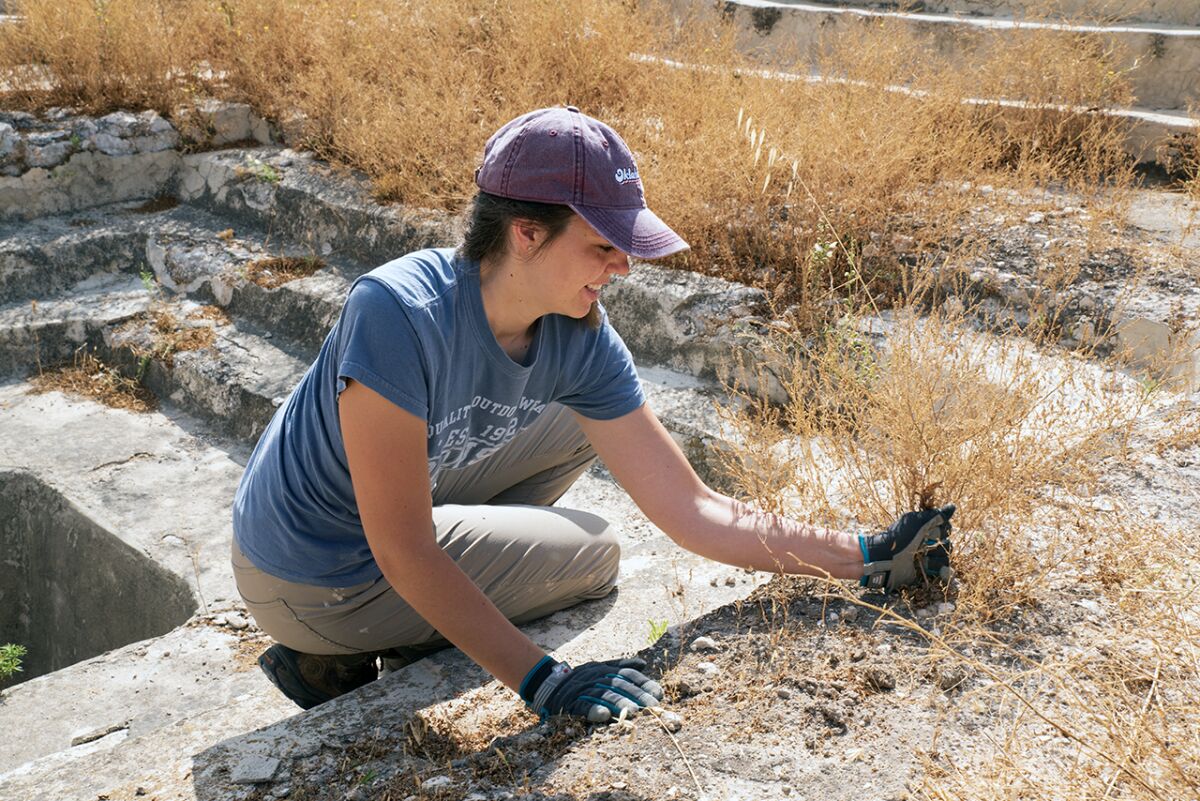 MAY 31: INITIAL CLEANUP BEGINS
This week, the first two Armstrong College students arrived in Jerusalem to help with preliminary cleanup around the dig site. The picture below provides a before and after of a brand new Ophel excavation area—Area E. This new area of excavation needed urgently drawing up before the dig by excavation architect Marcus Edelcopp. However, he couldn't see what he was supposed to illustrate due to overgrowth of vegetation. So, our crew got to work. Within this larger structure, we have a buried wall with a very promising Herodian, or perhaps even Iron Age, orientation.
Great work lads!

EXCAVATION PREVIEW